This economic outlook is provided by Dr Constantin Gurdgiev who is the Adjunct Assistant Professor of Finance with Trinity College, Dublin and serves as a co-founder and a Director of the Irish Mortgage Holders Organisation Ltd and the Chairman of Ireland Russia Business Association.

The markets are heading into March, unperturbed by a series of stock indices gyrations, corporate debt yield lows, strong and sticky on the upside sovereign credit and real estate prices in key economies, and a steadily increasing stream of crypto-related ICOs, ETFs and institutional investment announcements. US Venture Capital funding has reached US$78.5 billion in 2017, the highest in history, surpassing for the first time the record set in 1999. All forecasts are green, even if with a growing sense of unease in the investment world.
Beneath a relatively healthy façade, looking into 2018, global financial markets are showing signs of the excessive exuberance both in terms of the duration of the current bull market and in terms of market valuations. In line with this, investors' appetite for risk is now moving sideways, matching expectations for continuation of a gradual, and shallow, unwinding of the past monetary stimuli, and renewed economic growth. The subdued volatility, however, is concealing a more complex story, better described not by risk-return expectations, but by growing uncertainty, complexity and ambiguity around the key factors shaping investors' willingness to stay on risk-loving side of the fear curve.
GLOBAL GROWTH
Consensus forecasts for 2018 put global economic growth at around 3.7 percent, only marginally above the 3.63 percent real GDP growth estimated for 2017. And the sources of growth, geographically, are shifting against the current retail investors' exposures. Advanced economies are likely to lead global growth to the downside in 2018, with the emerging markets expected to provide a more positive momentum to the global economic expansion.
This stands in contrast to the latest data on investment portfolios allocations that shows the retail investors some 80:10 long equities and debt of the advanced economies. In other words, if the prospect for firmer growth is driving markets expectations for 2018, either the economic forecasters are missing the point by a mile, or investors are complacently herding into asset classes with negative exposure to global growth trends.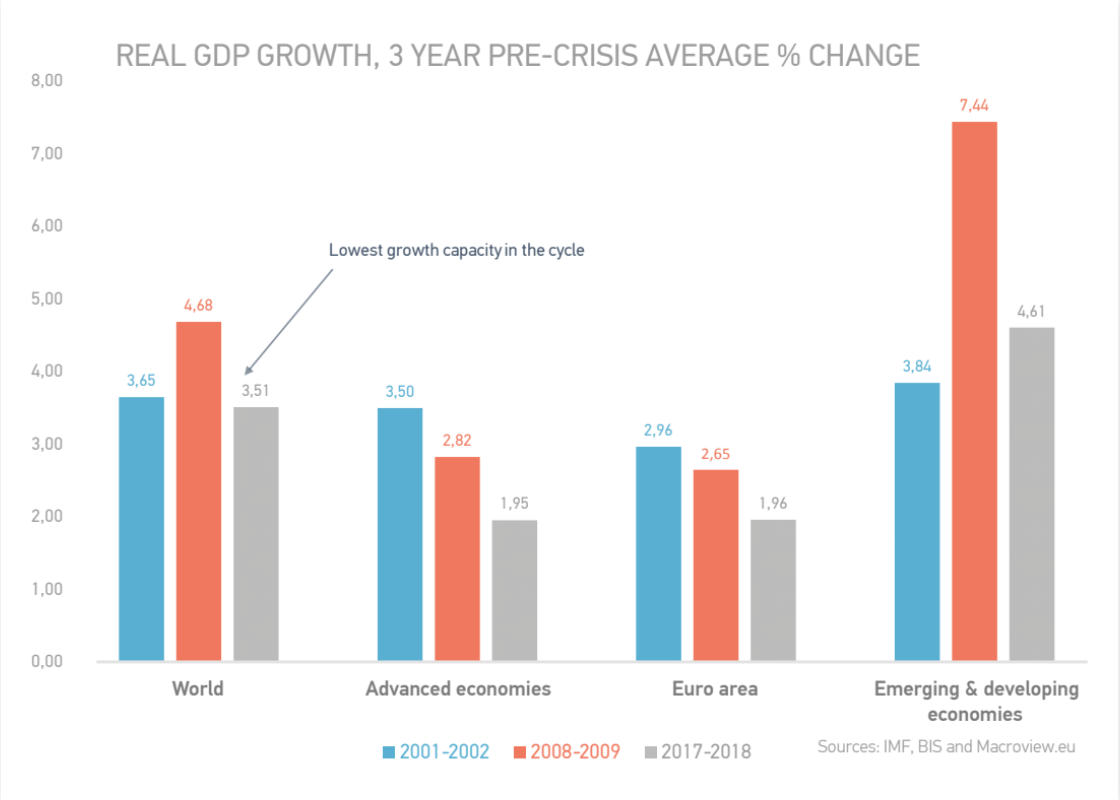 More ominously, as the chart above highlights, compared against the three year period prior to the two previous financial crises and recessions (the period of 2001-2002 crisis and 2008-2009 crisis), the last three years' economic growth has been weak. This weakness reflects lower potential for the recovery post-recession should another economic crisis hit in 2018. It also implies shallower economic resources available to alleviate any potential contagion from the financial markets crisis to the real economy.
Notably, growth in the advanced economies and, more significantly from the Irish investors' perspective, growth in the Euro area, today sits well below that in the years preceding the last two crises. In the case of the Euro area, the cushion of new economic activity generated over 2016-2018 period (based on 2018 forecasts) is a third thinner than in the post-dotcom bubble crisis and more than a quarter weaker than in the run up to the Global Financial Crisis and the subsequent Great Recession. Which means that contrary to all the rhetoric about the great recovery, Euro area economy is still running with lots of underemployed capacity. Euro area's output gap in 2017 stood at -0.525 percent of GDP, and the latest forecasts imply the gap shrinking, but remaining negative (at c. – 0.01 percent of GDP) in 2018. A new recession will likely bite harder into the households' incomes and employment than the previous two recessions.
INVESTMENT
Much of the 2018 growth outlook is underpinned by expectation of slightly stronger aggregate investment in the advanced economies, and by improved aggregate consumption in the emerging markets. Aggregate investment is expected to rise from c. 25.39 percent of GDP worldwide in 2017 to 25.51 percent in 2018, the highest rate of investment in three years. That said, the rate of investment will be lower than in 2014-2015. This, put simply, is a marginal increase and simply cannot sustain current financial markets valuations. In effect, investment will barely keep pace with GDP growth across all major groups of economies, from advanced economies to emerging markets.
The chart below shows average aggregate investment for the three year period immediately preceding the two previous crises, as well as the average for 2016-2018 period, using 2018 forecasts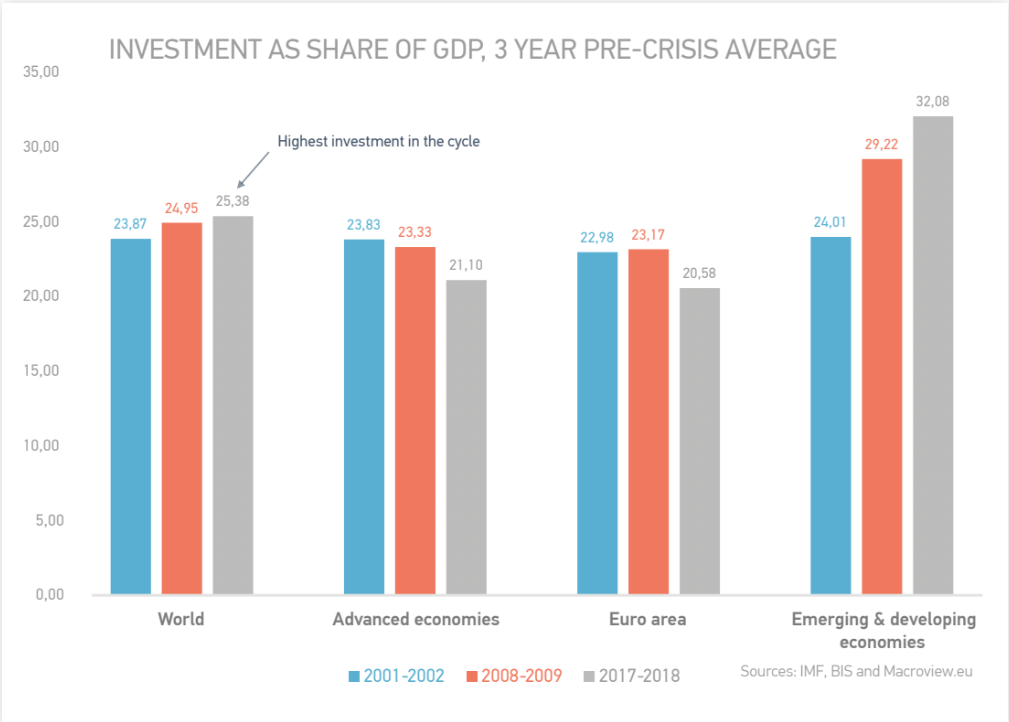 Despite the historically low cost of funding, courtesy of the monetary policies of quantitative easing, a wide range of policy supports aimed at increasing credit in the advanced economies, and booming asset markets, the latest recovery has been largely investment-light. In 2004-2007, advanced economies run investment at an average 23.3 percent of GDP per annum (22.9 percent in the Euro area). Over 2010-2017, the advanced economies aggregate investment averaged just 21 percent of GDP (20.37 percent for the Euro area).
The obvious problem is that the investment outlook worldwide is weak and it is especially weak for the advanced economies. The less obvious problem is that this weakness comes at the time when real interest rates are still negative in the U.S., despite recent rate hikes and nominal interest rates are negative in the Euro area, despite the ECB halving its bond purchases. Financial conditions were also generally easier at the end of 2017 than a year ago. In the ECB's case, an added problem is that the first tranche of some €750 billion of Targeted Long-Term Repos (TLTROs) will open to repayment around mid-2018. Analysts' expect that some banks will repay the funds, cutting back on liquidity available for credit supply. If some 10-20 percent of TLTROs are repaid in 2018, the pool of credit-sustaining liquidity will shrink by some 2.5- 5 months worth of ECB's QE. Watch Summer 2018 for signs of credit conditions tightening, including in the already highly over-priced Irish credit markets.
INFLATION
Global inflation outlook is expected to remain moderate, with worldwide inflation averaging only 3.3 percent in 2018, the highest since 2013, but still below 2009-2017 average of just under 3.5 percent. Price dynamics are hardly supportive of the equity markets valuations, as reflected in the expanding gap between equities and traditional inflation hedge assets, such as gold.
While the process of the U.S. interest rates reversion to the historical mean is likely to continue at a similar pace to that of 2017, monetary policy will remain extremely accommodative in the Euro area, with 3-month Euro Libor expected to average -0.25 percent in 2018, compared to -0.326 percent in 2017, marking the fourth consecutive year of sub-zero rates. Meanwhile, on foot of robust 2017 expansion, credit growth is expected to slow down in the major advanced economies and China, while rising moderately in the emerging markets. In contrast, financial markets leverage (ratio of margin accounts debt to cash and reserve balances) is expected to continue climbing up from already high levels.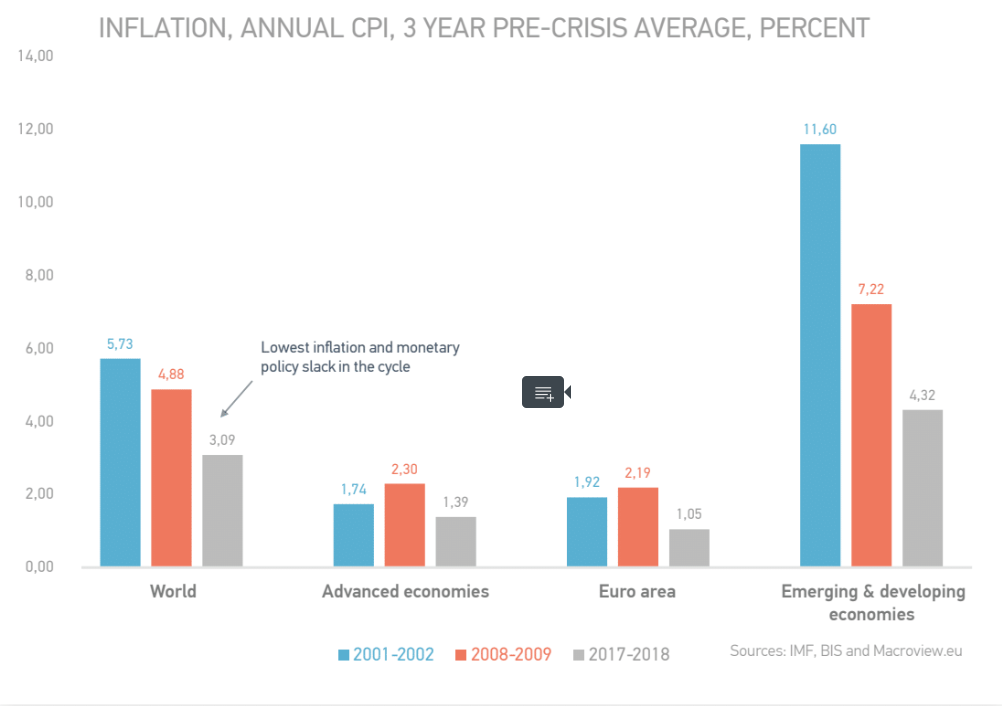 Again, looking at 2016-2018 (including latest forecasts for 2018) averages, as compared against previous pre-crises averages, inflation outlook is worrying. A significant downside pressure on the real economy is more likely to trigger sustained deflationary dynamics in the present cycle, than in 2001-2002 and 2008-2009 crises. This holds for both, the advanced economies and for the emerging markets. The risk is more pronounced in the Euro area than in other key economies.
FISCAL AND DEBT DYNAMICS
The final part of the macro puzzle relates to the global fiscal and re-leveraging capacity.
Accommodative fiscal policies are expected to play a role in lifting growth in some advanced economies over the course of 2018. Most notable amongst these is the U.S. tax reform that is highly pro-cyclical. While, at the time of writing, we do not yet have the official 4Q 2017 official GDP estimates, all indicators suggest that the U.S. economy is still on track to post above 3 percent growth for the third quarter in a row, the longest run of such prints since 1Q 2005. Adding to the tax reforms, upcoming Infrastructure Investment Bill and continued deregulation drive are further supporting U.S. economic resilience. Much of these changes are already factored into markets valuations. On the other hand, Euro area fiscal policies remain more conservative, with Spain being the only block country with above-3-percent deficits. Into 2018, forecasts suggest further tightening of deficits.
In simple terms, while the core macroeconomic fundamentals are likely to remain supportive of only gradual moderation in monetary policy excesses, credit and growth conditions are unlikely to sustain the recent rates of financial markets optimism, warranting a major financial markets correction. The risk is compounded by the already high levels of debt carried by the major economies around the world, courtesy of 2016-2017 credit expansion.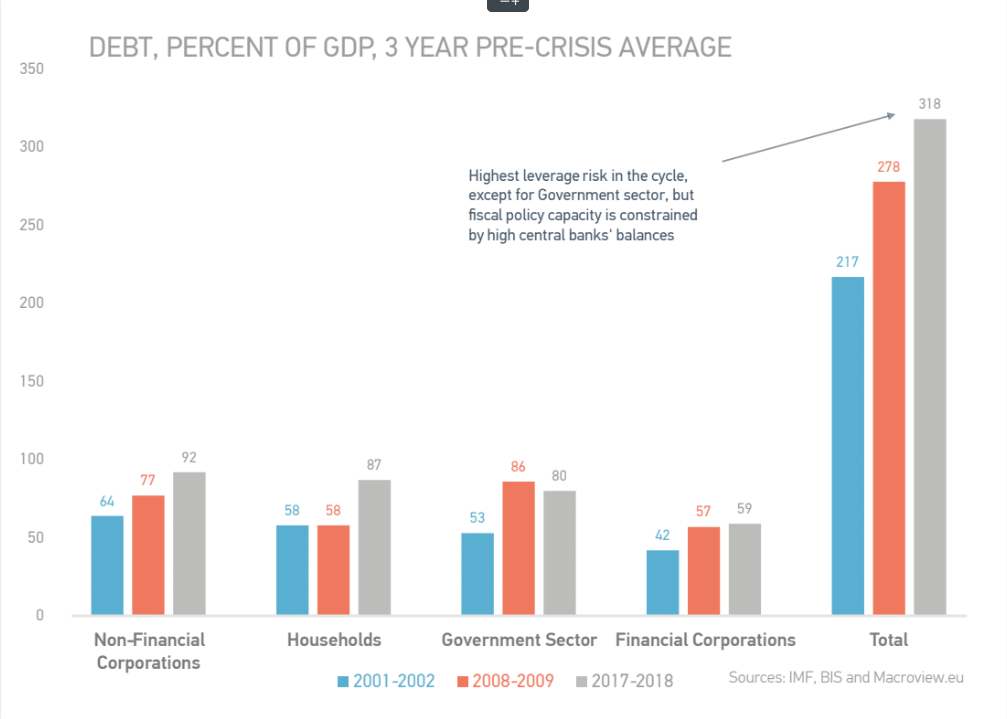 As debt service costs rise along the path of increasing interest rates, the risk of a financial markets correction-induced liquidity blow-out start to loom larger. These pressures are likely to manifest themselves first in a continued increase in the broader uncertainty and ambiguity measures in the markets, only later spilling over into the volatility metrics, such as VIX indices.
TAKEAWAYS
Per above, the latest macroeconomic indicators suggest that investors' expectations of a trouble-free 2018 are not anchored in reality.
Structurally, rotation of the global growth drivers away from the advanced economies toward the emerging markets is consistent with some risk repricing in favour of improved ratings for a range of developing and middle-income countries. Chief in this process are the BRICS+ – a group of key emerging economies, including Brazil, Russia, India, China, South Africa, Indonesia, Mexico, Nigeria, Turkey and Egypt. All, with exception of China and Turkey, are likely to see more positive developments in the domestic and global markets, and warrant some additional risk upgrades on foot of improving outlook for external trade, key commodities prices, domestic and regional economic growth, and strengthening in monetary conditions (Forex and interest rates comparatives to the advanced economies).
On the uncertainty and ambiguity side, key risks for 2018 credit outlook will remain similar to those that played out in 2016- 2017: geopolitical uncertainty, regional policies volatility, potential for significant cybersecurity risks blowouts, cryptocurrencies bubble, and the large-scale imbalances built up in the advanced economies' financial markets. The latter threatens emerging markets with a sudden stop to equity and debt inflows, resulting in a potentially sizeable sell-off of liquid assets by international investors.
But, on balance, the above uncertainties and ambiguities are becoming more pronounced and acute as we move into late Spring. The engines of global growth are returning mixed results, and investors' expectations for forward momentum are excessively optimistic. Something must give in order to reprice real and tangible risks. Past experience suggests that this giving in will be painful for a broad range of asset classes, most notably stocks and corporate bonds. New trends also suggest that a correction can be devastating for the new class of assets – the cryptocurrencies. And comparatives between the latest expansionary cycle and the previous growth periods preceding the last two crises implies that the giving in can be protracted and deep.
If you need help with your finances for 2018, just give us a call on 1890 60 65 70 or send us an email.