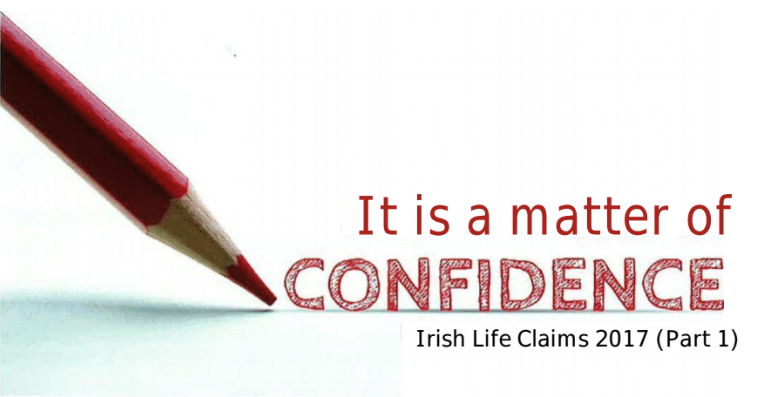 Written by Martin Duffy, Chartered Insurer, Head of Underwriting and Protection Claims, Irish Life
When you advice customers about protection, it is all about confidence. Confidence is the cornerstone of protection advice. Do customers have confidence in your advice, are they comfortable that the insurer may pay a claim, does the insurer have an efficient claims process when they or their family need money the most? Talking about the basics, i.e. actual claims paid by Irish Life is one way of directly seeking to increase a customer's confidence by showing that claims experience matters.
There may be a gap between perception and reality in a customer's mind. According to research carried out on behalf of Irish Life in December 2017, Irish adults on average believe that only 51% of life assurance claims are paid out *. Knowledge of the insurers claims experience can support both the protection cover you are recommending and the insurer you are endorsing. So once potential customers realise that they firstly need cover and secondly be confident in what has been recommended, it is much more likely that they will choose to put in place suitable cover. A comprehensive analysis of protection claims paid in 2017 by Irish Life has shown some facts and trends that may be of interest to you as a Financial Broker.

Irish Life Assurance plc has paid out €184,000,000 to over 3450 families in Ireland, for basic protection benefits on death, Specified Illness Cover and rider benefit claims in Ireland in 2017. Outlined here are some key findings from Irish Life's analysis of individual claims paid during 2017.
Death Claims
A thing to note in respect of our 2017 death claims is that while the average amount paid out has increased to €76,786 this is down to the number of large claims paid during 2017 rather than a general increase in the levels of cover being provided to customers. Irish Life paid 17 broker death claim cases for benefits over €500,000 and 8 broker claims for benefits over €1,000,000 during 2017. On the other hand, only 22% of death claims were on plans for over €100,000.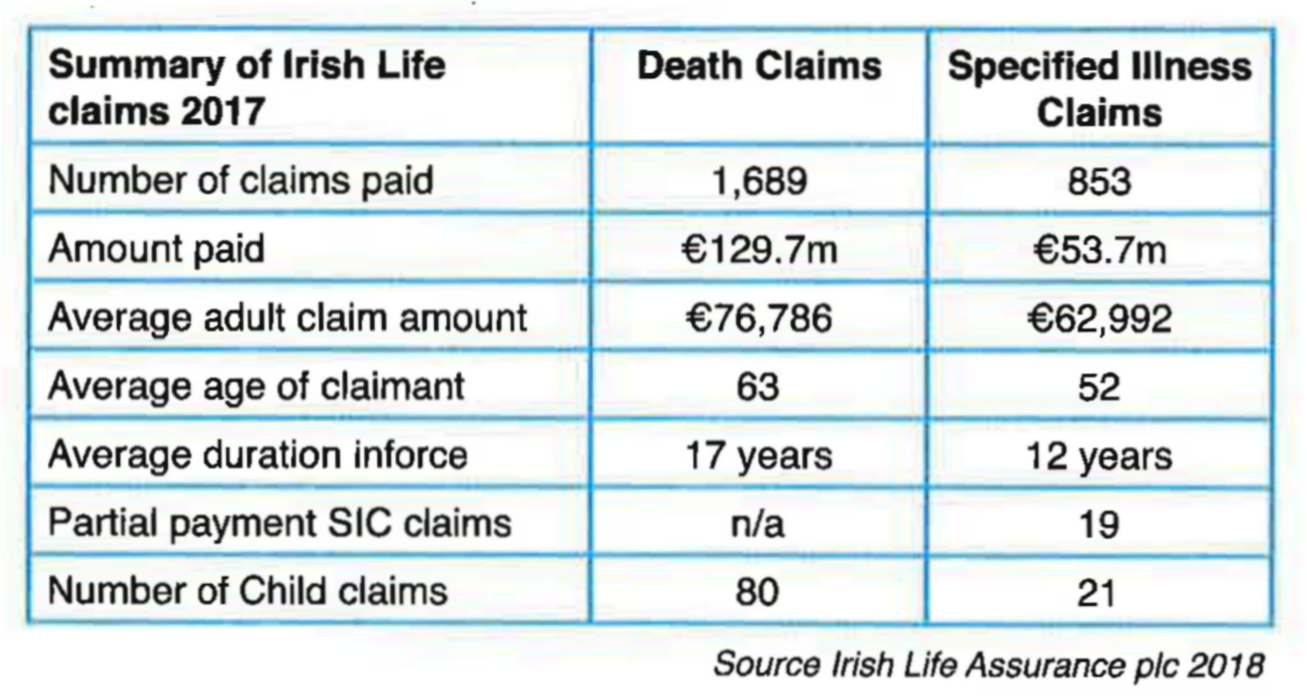 We regularly see unexpected medical deaths where the plan was only in force a short period of time For example, Irish Life paid a death claim during 2017 to the estate of an individual who died unexpectedly of heart failure and the plan was only in force 34 weeks. We paid a death claim to the estate of a woman who died because of a sudden onset of malignant breast cancer. In fact, deaths due to malignant cancers accounted for 42% of all death claims during 2017, Cancer as a cause of claim is a good way of illustrating that we can never predict the future and it's always a good financial recommendation to have some protection cover in place; we never know when the unexpected might happen.
Irish Life paid out €17.1 million in death claims as a result of accidents/unintended deaths of various kinds during 2017. This included 19 deaths as a result of road traffic accidents and 7 deaths as a result of work related accidents. The average age of males who died in road traffic accidents was only 51.
As you know, protection is very much a long-term business. To illustrate this, Irish Life paid a death claim during 2017, to the estate of a 94 year old under a plan that was in force since November 1954, when Dwight D Eisenhower was the American President!
Almost 30% of our death claims were on lives aged between 41 and 60, most of whom probably had families, mortgages and other financial liabilities.
Irish Life paid 40 terminal illness claims to a total value of €4.4 million, under life assurance plans during 2017, with the average claim amount being €109,534 and with an average plan duration of 11 years.
In the research carried out by Coyne Research on behalf of Irish Life in December 2017 only 7% of Irish adults believe that life assurance companies pay out 90%+ of life assurance claims". This 5 years data really illustrates that customers can have confidence that Irish Life is there to pay death claims.
The main reason why a death claim would be declined is non­disclosure of key material facts on the application form. Some examples of the significant things customers did not disclose that lead us to regrettably to have to decline a death claim during 2017 include one claim where the applicant failed to reveal a history of malignant prostate cancer and died from a related cancer spread. Another case where the applicant failed to disclose a significant history of raised blood pressure and died as a result of stroke (one of the risks with uncontrolled high blood pressure).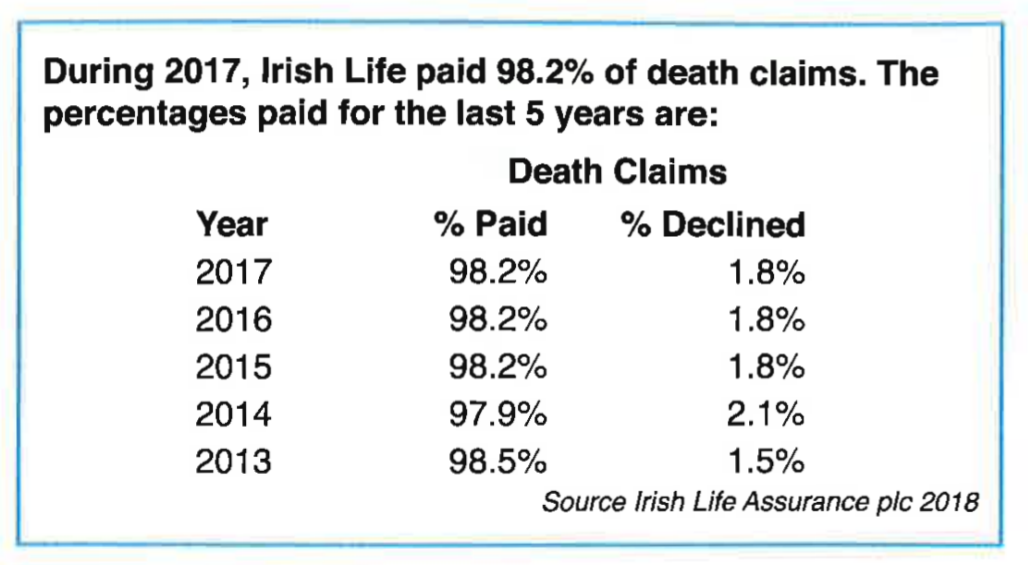 From our 2017 claims statistics the average death claim turnaround time, measured from date of first notification to date of payment, was 18 weeks for death claims. In fact, 55% of death claims were paid in 5 weeks or less (930 plans). Therefore, you can be confident that Irish Life work very hard to pay your customers death claim as quickly as we possibly can. Most issues that cause the longest delays with death claims are related to probate or legal ownership issues. We are occasionally asked about making an 'advance' payment under a death claim plan to cover funeral expenses and we try to facilitate this where possible.
Source: *Coyne Research Dec 2017 Irish Life Assurance plc is regulated by the Central Bank of Ireland