Ever wondered why you should have a pension? There are multiple benefits to holding a pension alongside the most obvious, which is an income to cover your retirement. Here are ten reasons why pensions make sense…
To discuss further you can contact any of our advisors on 1890 60 65 70, visit our website or email us at info@cfc.ie.
1. WHAT WILL THE STATE PENSION BE IN THE FUTURE?
The State Pension (Contributory) personal rate for a single person is currently €243.30 per week, or €461.30 per week with an adult dependant allowance.
Demographic changes in Ireland, as in countries across the EU, will put pressure on government finances as the cost of state pensions and health care for the elderly increase. Currently in Ireland there are 6 adults of working age for every one adult over 65, but this ratio is predicted to change to 2 to 1 by 2050. (Source: National Pensions Framework 2010).
Steps taken in the past to plan for this demographic change can no longer be relied upon. The National Pensions Reserve Fund was established to help meet costs of social welfare and public service pensions from 2025, but is now being used to make investments in credit institutions and Irish Government securities as directed by the Minister for Finance.
Simply put, you cannot be sure the State will provide you in your old age with the same level of pension income, medical card support or other benefits as are provided currently.
2. STATE PENSION AGE INCREASING
Legislation is now in place that will increase the age at which the state pension becomes payable in the future.

3. LIFE EXPECTANCY
Life expectancy for those born in Ireland is now 78 years for males and 83 for females (Source: OECD). While increasing life expectancy is a good thing, it is also something your need to consider when planning for retirement. If your client's retirement fund is to last longer your will either need to set aside more, or take a lower income each year in retirement. Your retirement savings may need to last for up to 30 years after your finish working.
4. CONTROL & CHOICE
You can also have more control and choice regarding your pension, both before and after retirement. Through a selfdirected PRB, PRSA, Self-Administered Pension Scheme or ARF you can have access to and full control of a wide range of investment opportunities including direct property, property funds, share trading account, deposits, commodities, government and corporate bonds, currencies and capital secure products. Cathedral Financial Consultants has vast experience in setting up and advising on self-directed arrangements and would be delighted to answer any queries you may have on setting one up or possibly converting your existing pension to a self-directed vehicle.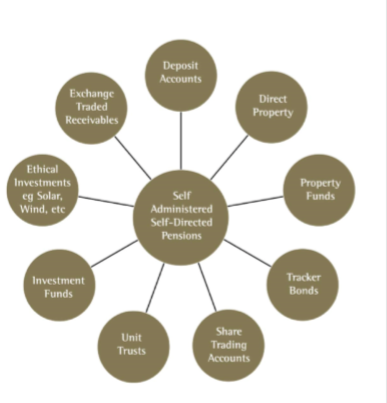 5. INCOME TAX RELIEF
Income tax relief is still available on contributions made personally to a pension, 40% of the contribution for a top rate tax payer, or 20% for a standard rate tax payer. For a higher rate tax payer, this is equivalent to the government topping up your net pension contribution by up to 67%!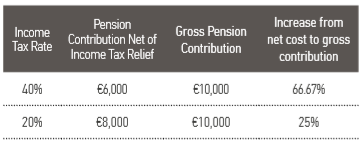 In addition to income tax relief on any personal contributions, employer contributions to a Company Pension are also tax deductible and no benefit in kind is appropriated to the employee. No BIK means, no income tax, no PRSI & no USC – potentially around 50%. The tax rates used are current as at September 2017. Tax relief is not guaranteed. To be eligible to claim relief, your income must be taxable either Schedule E or Schedule D (case I or II). To claim tax relief, your client can apply to their Inspector of Taxes to adjust their tax credits. Contributions deducted from salary will receive immediate tax relief. Any employer contributions will receive tax relief in the year the contribution is made and are deductible by them as a business expense for Corporation Tax purposes.
6. TAX FREE RETIREMENT LUMP SUM
Tax free retirement lump sums are available when taking retirement benefits. You can take 25% of your pension fund as a retirement lump sum or with a company pension you can instead choose to take a retirement lump sum of up to one and-a- half times your final salary, depending on the length of time employed. The maximum total tax-free amount is €200,000. A retirement lump sum of between €200,000 and €500,000 is subject to standard-rate income tax, currently 20%. Where total retirement lump sums are greater than €500,000 these will be taxed as income at marginal rate, plus USC.
7. LIFECOVER
The same income tax relief that applies on pension contributions is also available for Pension Life Cover, which means cheaper life cover. For example, a 40 year old self-employed person non-smoker taking out €250,000 of life cover to age 65 with indexation and conversion option could choose between a life term cover plan and personal pension life cover.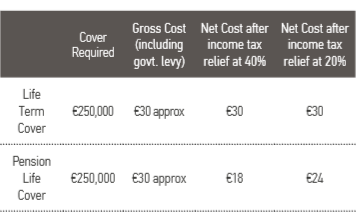 The tax treatment of a lump sum paid out on death is the same for life term cover and pension life cover. In each case the lump sum is subject to inheritance tax, and there is no tax if the lump sum is going to a spouse or registered civil partner.
8. ARF OPTIONS
The ARF option has been extended to all members of Defined Contribution company pensions. This means that the ARF option is now available on:
Members and directors in DC Company Pensions
AVCs for those in DB Company Pensions
5% directors in DB Company Pensions
Personal Pensions
Personal Retirement Savings Plan (PRSAs)
Personal Retirement Bonds (PRBs) Individuals need to consider their options carefully on retirement, and will need advice more than ever in this area.
However, the ARF option gives what many individuals want in terms of:
control over income drawdown
control over investment options
9. INHERITANCE PLANNING
Pre-Retirement
The tax treatment of pension funds on death can result in a tax efficient way of inheritance planning. A summary of the tax treatment of lump sums paid on death is set out in the table below.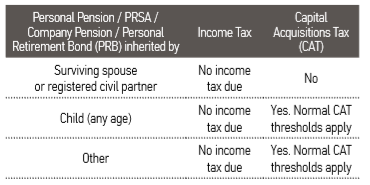 For children the inheritance tax threshold is €310,000 per child, including any other gifts and inheritance received from parents since 1991.
Post-Retirement
ARFs, Approved Minimum Retirement Funds (AMRFs), vested PRSAs and vested Retirement Annuity Contracts** (RAC) are all treated the same on death. A summary of the tax treatment is set out in the table below.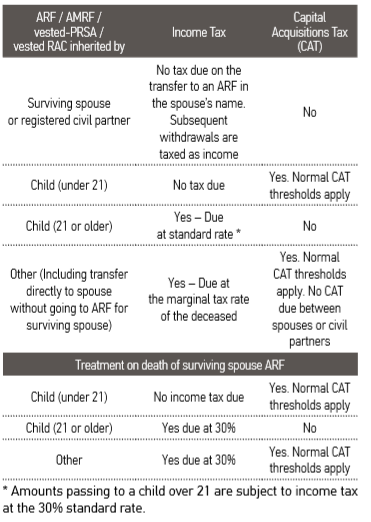 10. GROSS ROLL-UP
Exit Tax on savings and investment plans is 41%. DIRT is 37%. Capital Gains Tax is 33%, with an annual exemption of €1,270. (rates as at 2017). Pension funds are exempt from Irish income and capital gains taxes.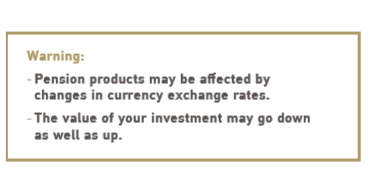 This article does not constitute advice. Independence advice should be sought at all times.