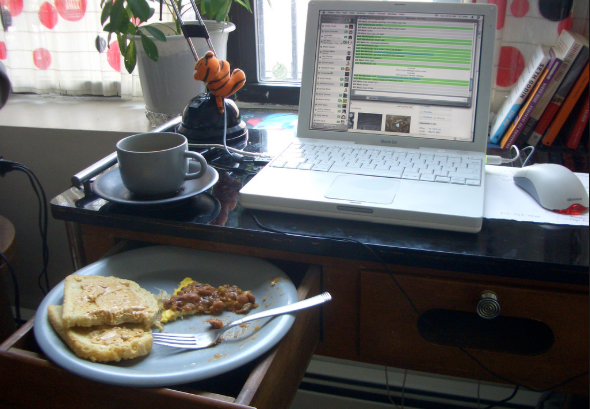 Lunching at your desk may be convenient for you, but that's about where the benefits end. Apart from the fact that your co-workers will not appreciate the sounds and aromas, it also has a negative impact on your mental and physical health. About 75% of us regularly eat al desko, which makes us guilty of the cardinal sin of desk workers: Thou shalt take regular breaks during thy working day. And there's good reason why this should apply to your at-work eating habits too.
YOU WILL HAVE A HARD TIME WITH PORTION CONTROL
Eating by your desk is bad for your waistline, as you may overeat because you're distracted with Facebook or cat videos. Research has shown that people who eat while watching television consume approximately one third more than they would otherwise, and the same would apply to eating by your desk.
YOU WILL NOT GIVE YOUR BODY A BREAK
Eating by the desk does not give your mind and body a break, and that's not only bad for your posture, but for your general mental and physical health. Modern medical science basically blames everything on a sedentary lifestyle, including:
cancer
heart disease
type 2 diabetes
poor mental well being
Most of us sit too much and exercise too little. Eating lunch at your desk is twice as bad! Someone with a desk job usually sits for six to eight hours, unaware of the impact it has on their health. Even a small amount of physical activity, such as taking a walk at lunch time, can dramatically reduce the health risks associated with a sedentary job.
YOU MAY SUFFER FROM LOWER-BACK PAIN
Many people who follow a sedentary lifestyle suffer from lower crossed syndrome, which results in weak glutes and abdominal muscles with tight lower-back muscles and hip flexors. This condition can impact on one's personal and work life. Savvy employers encourage their office workers to take regular breaks, not only provide physical benefits, but to encourage better stress management. Lunch breaks should be used wisely, and should include:
fresh air intake
 hydrating
energy boosting snacks
It is quite common for modern workplaces to dedicate a space within office buildings for people to recharge and engage in short meditation. Some companies encourage employees to consider standing desks, walking meetings and incentivised movement challenges. These and other small changes can contribute to improved productivity together with mental and physical health.
Instead of eating your lunch at the desk, why not eat your lunch outdoors on a bench. That way, you'll get out of the office for a bit, enjoy some fresh air and vitamin D on a sunny day. Additionally, it provides a much-needed mental break after a long morning of meetings, putting out fires, or staring at a screen. By reclaiming your lunch break, you can transition out of work mode. This will allow you to re-energise yourself, calm your mind, so that you can easily refocus when you return to the office.
Many people stay at their desks during lunch due to an office culture of presenteeism. This maybe perceived as a form of peer pressure which may lead to low worker morale. Some employers may begrudge lunch breaks, but research has shown that people are less productive between 2pm to 3pm. Perhaps taking a late lunch is a great way for your office to refocus. Research has also indicated that most people are at their most creative and alert between 9-11, while productivity drops after lunch, and plummets after 4pm. Monday are the most productive days, with Fridays being the least productive. Autumn is the most productive time of the year, with October being their most productive month.