Ever wondered what the tax relief on personal pensions is or what the standard rate of income tax is? This handy Financial Factsheet covers all this and more. To discuss further you can contact any of our advisors on 1890 60 65 70, visit our website or email us at info@cfc.ie.
Retirement Facts



Pension Fund Taxation
Imputed distribution on ARFs is 4%, if attained age 61 or over in the tax year, increasing to 5%, if attained age 71 or over in the tax year; it is calculated on the value of the fund as at 30th November.

 The imputed distribution rises to 6% (if attained age 61 or over in the tax year) in respect of ARFs with asset values in excess of €2 million as at 30th November (or, where an individual owns more than one ARF, where the aggregate value of the assets in those ARFs exceeds €2 million).
 Imputed Distribution on a similar basis applies to the non ring-fenced amount in all vested PRSAs and from age 75 also for all non vested PRSAs.

AMRF holders can opt to take one withdrawal in a year up to a maximum of 4% of the value of the AMRF at the time of withdrawal (regardless of the level of accumulated gains or losses); any withdrawal is subject to PAYE and USC.
The rate of tax on a chargeable excess is 40%, the higher rate of income tax. This is reduced by a tax credit for any standard rate income tax deducted from pension lump sums taken since 1st January 2011.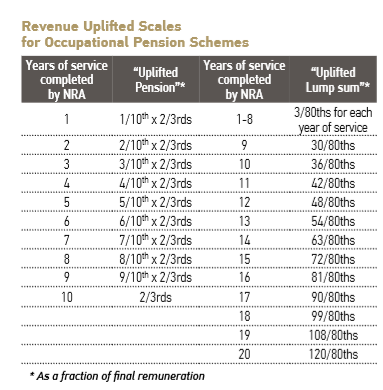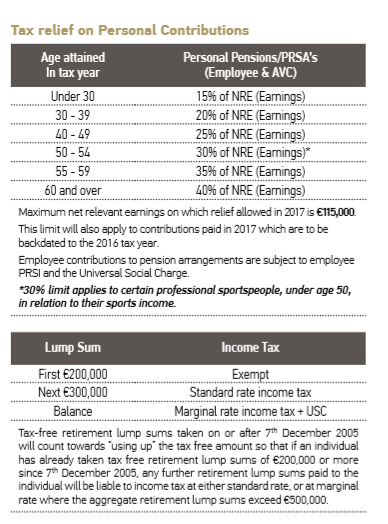 Fund Thresholds
Standard Fund Threshold is €2m from 1/1/2014.
For Defined Benefit entitlements an age related factor will be used to calculate an individual's Personal Fund Threshold for all benefits accruing after 1/1/2014(a valuation multiple of 20 is used for all benefits accrued before 1/1/2014.)
Investments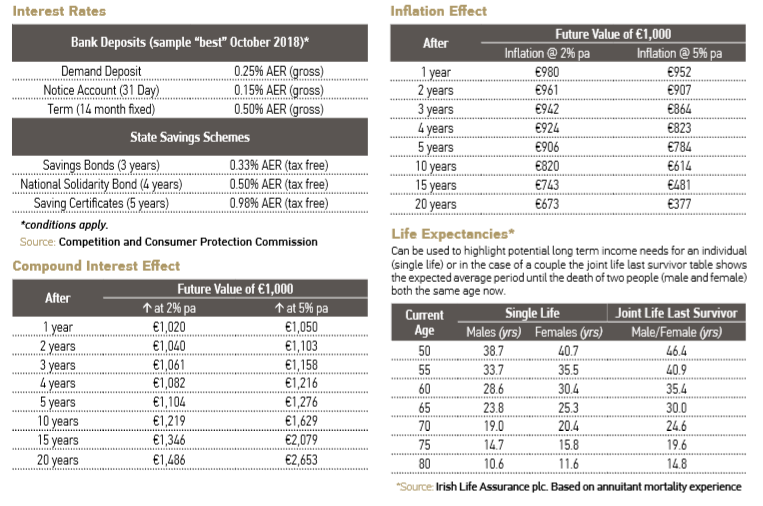 Tax Facts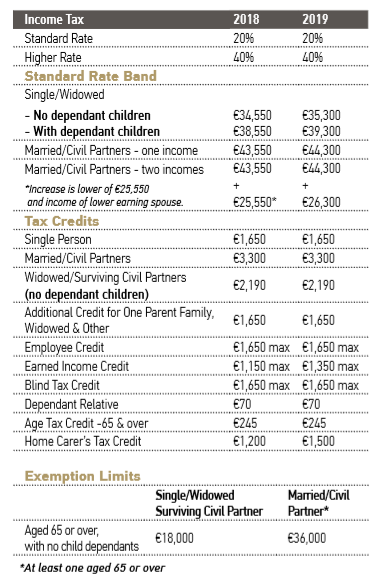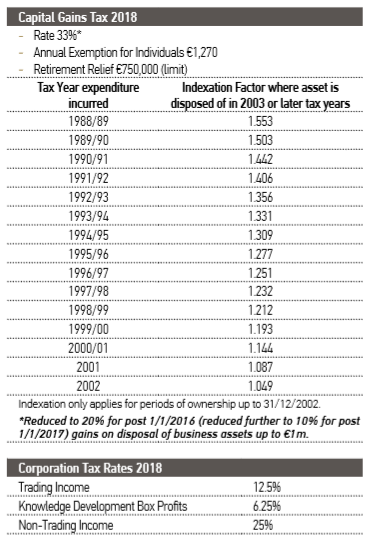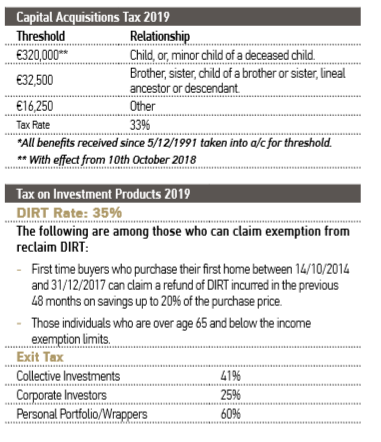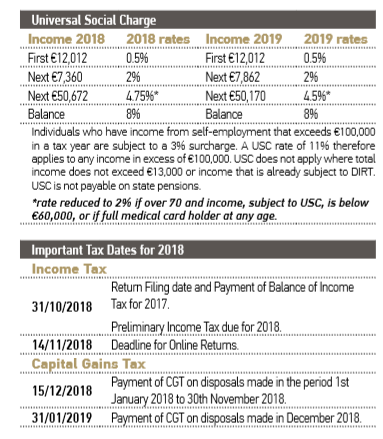 Property and Mortgage Facts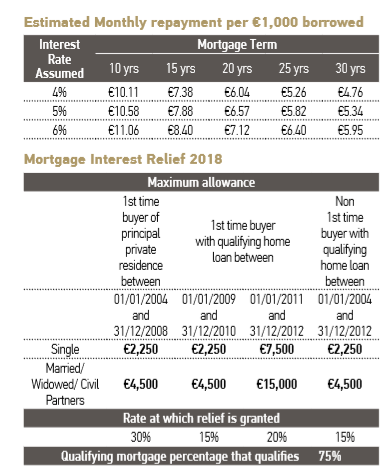 For 2019, the above maxima are reduced by one third, as is also the qualifying percentage, i.e. to 50%. For 2019 the rate at which relief is granted remains the same except for 2012 first time buyer loans, where the rate reduces from 20% to 15%. For mortgages started before 01/01/2004, entitlement to relief expired in 2009. No relief is allowed for mortgages taken out after 31 December 2012. A Help to Buy (HTB) incentive is available for first-time buyers in respect of principal private residences. It applies only to new houses and self builds. The relief takes the form of a rebate of an amount equal to income tax (including DIRT, but not USC or PRSI)) paid over the previous four tax years. The maximum rebate available is 5% of the purchase price of a new home valued at up to €400,000. Where a new home is valued between €400,000 and €500,000, the maximum rebate (i.e. €20,000) continues to be available. No rebate is available for new purchases costing over €500,000. The relief is linked to a mortgage being taken out for a minimum of 70% of the purchase price. Relief is provided at deposit stage (signing of contract). For Buy to Let residential properties, from 1st January 2019, 100% of mortgage interest.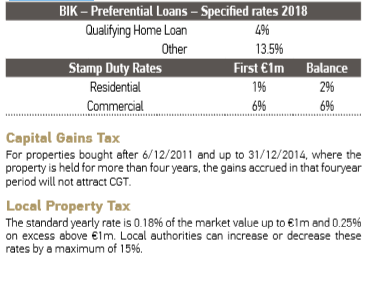 Protection Facts