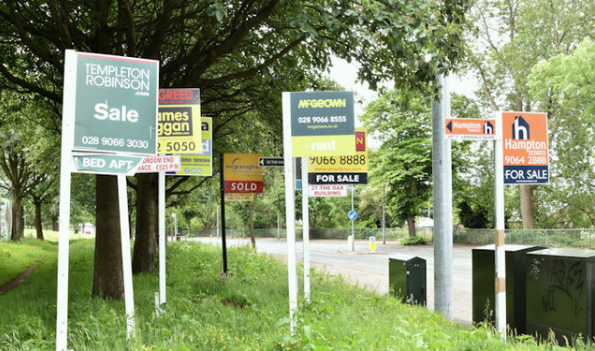 According to property experts, house prices will continue to slow as we enter 2019. Lower demand points to peaking or stabilizing trends going forward.
Increase in prices will likely be down from 8% nationally this year, to 6.2% countrywide, with Dublin slowing to 4.2%, according to a housing expert. Fast forward to 2020 and property prices will cool further with predictions of 4.2% and 3.2% annually.
Director of research at Savills, John McCartney, with affirmation by Pat Davitt, CEO of IPAV made these predictions. The latter agreed, ''The days of 10% , 12% and 15% are gone for now. I'd say we're looking at price increases under 5% in Dublin for 2019.''
Commenting on price increase slowdowns, housing policy analyst Mel Reynolds cautioned, ''We're still between 5% and 6%, which is pretty high by a lot of standards, in comparison to Europe and the UK.'' Good news to wannabe house-buyers, as it offers the prospect of some relief.
According to McCartney, demand for houses may have peaked or plateaued, a clear indication a more balanced market is emerging. That said, demand continues to outstrip supply, a trend that will continue for years to come. He anticipates house price inflation will continue on a downward trend, as the market morphs towards equilibrium in late 2022, early 2023.
The continued slowdown reflects stringent mortgage controls by the Central Bank. Moreover, the increasing supply of new homes, and the reality those would-be buyers have hit spending ceilings, have slowed price increases.
McCartney pointed out that rising costs would likely affect the supply of new builds. He also referred to the burgeoning construction wage bill in quarter two of 2018. He says, ''However, construction has remained the fastest-growing sector of employment with 17,000 additional jobs in the year to September. So far, therefore, there is no evidence of an absolute manpower shortage, and the rise in construction wages may just be a onceoff impact of last October's sectoral employment order.''
Recently introduced exemptions allow new borrowers to exceed the Central Bank's mortgage controls. For example, up to 20% of lending to first-timers can exceed the 3.5 times loan-to income rule. By comparison, only 10% of subsequent and second buyers are similarly exemption favoured.
Drilling down, up to 5% of first-time buyers can breach their loan-to-value caps of 90% of the purchase. Conversely, 20% of new lending to second – or subsequent borrowers – can exceed the 80% LTV ceiling. It follows that the mortgage exemption system is open to criticism. An industry expert had this to say, ''It's unfair to borrowers, it's unfair to banks, and it's impossible to manage."
''Where borrowers apply for a mortgage, there is evidence they are approved for exceptions with more than one bank. There is no way of controlling this and it is unfair to other borrowers looking for exceptions who are refused because a bank has reached the relevant quota.''
Managing the exceptions to the Central Bank rules is very difficult for banks and is very frustrating for prospective borrowers.