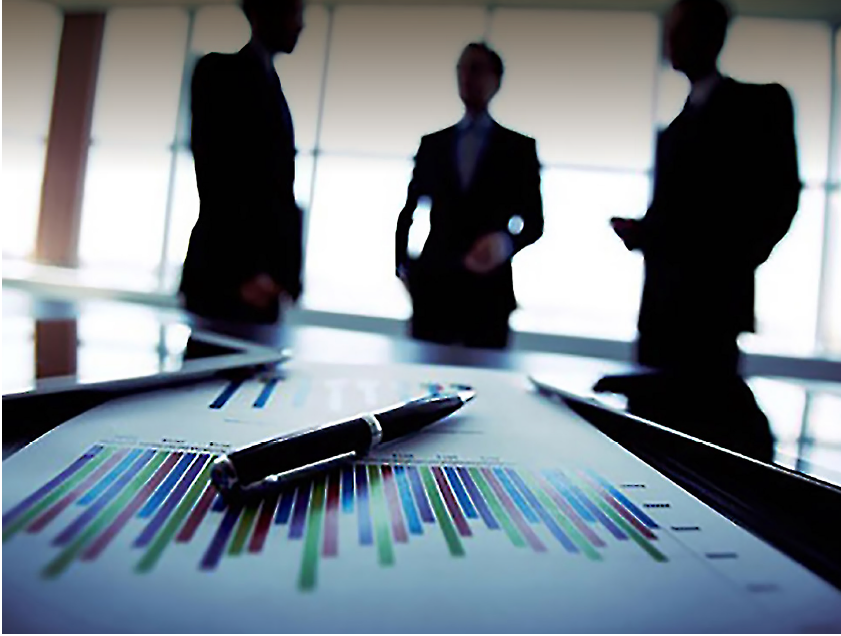 This economic outlook is provided by Dr Constantin Gurdgiev who is the Adjunct Assistant Professor of Finance with Trinity College, Dublin and serves as a co-founder and a Director of the Irish Mortgage Holders Organisation Ltd and a co-founder of iCare Housing Solutions, two non-profit organisations working with the issues of financial empowerment.
There is something 'mental' in economic fundamentals. And that is far from being the fake news. In fact, in recent years of the post-Global Crises recovery, economic data and markets statistics have witnessed a sustained decline in the quality of signals they carry to the public, the policymakers and investors alike. This ominous trend is evident from small economies, like Ireland, to the largest ones, like China and the U.S.
IRISH ECONOMY'S: STATISTICAL TRIALS AND REAL TRIBULATION CHART
Remember that moment in 2016 when the CSO released Irish GDP growth rates for the year prior, showing that the Irish economy grew 26.3 percent later revised to 34.4 percent, in a 12 July 2016 publication by the Irish Central Statistics Office that 'corrected' the 2015 Irish national accounts? More revisions later, the print remains at an incredulously, ridiculously massive 25.01 percent. The meaningless statistic was so far out of any connection with reality, the CSO was forced to issue a score of explanatory footnotes and notes to state the obvious: the real Irish economy (that part of it that actually employs people, pays wages, produces real goods and services and trades in them around the world) did not, in fact, grow at anything even remotely approximate to the official statistics. Courtesy of this publicly embarrassing kerfuffle, we got a hybrid derivative measure of Irish economic activity, the GNI*, that like an unwanted black eye still hangs around the technical reports by the Department of Finance – unwanted, un-promoted and un-welcomed, but necessary to retain some modicum of propriety in the polite circles of statistical societies. A survey of all official publications posted on the gov.ie website over the calendar year 2019 so far, shows 501 references to GDP and only 188 references to GNI or GNI*.
In simple terms, we've settled the debate by inventing a new, slightly improved measure of economic activity, that we do not really intend to put to any use. Leprechaun economics, as Irish GDP growth shenanigans were called by Paul Krugman back in 2016, turned Leprechaun statistics. Chart 1 below illustrates.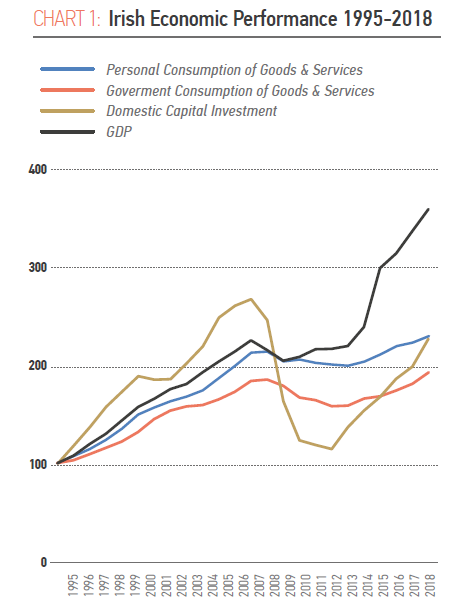 Since the end of 1995 through 2018, Irish GDP expanded by almost 258 percent, implying annualized growth of 5.85 percent. Over the same period of time, private consumption of goods and services grew 130 percent, with an average annual rate of growth of 3.75 percent, Government consumption grew 93 percent, averaging annual expansion of just under 3 percent, and organic domestic capital investment (excluding MNCs-dominated intangible assets and 'other transport' categories) rose 127 percent cumulative, posting average annual growth rates of 4.5 percent. In other words, up to half of Irish economic growth has been coming from a combination of net exports (severely skewed by the activities of the multinationals) and MNCs-driven investments. How significant are the latter factors to Irish economic statistics? In 1995, per CSO data, total value of Intangible Assets contribution to GDP in Ireland stood at EUR1.649 billion, or 1.89 percent of total GDP. Over 1995-2011, average annual contribution of these assets to Irish GDP was running at a relatively modest 3.53 percent per annum. All of this changed in 2015. In the last five years, average annual contribution of 'intangible capital investments' – largely Intellectual Property offshored to Ireland by the American and other multinational corporations for tax optimisation purposes – to Irish GDP has shot up to an average of 13.4 percent. That's right: over EUR13 of each EUR 100 in Irish economic activity in the last four years came from Facebooks and Googles Intellectual Property 'assets' – a form of capital that has zero real footprint in any country where it might be domiciled.
Let's put this into perspective: equity market capitalization of the entire Irish Stock Exchange was EUR127.6 billion at the start of May 2019. In 2015-2018 alone, multinationals moved some EUR150 billion worth of 'intangible assets' into Ireland. And this does not even begin to count financial engineering that passes for 'investments' in IFSC and several other sectors, such as pharma and aircraft leasing.
Similar 'selective' use of statistics to pad economic performance indicators is evident in the Government use of employment and unemployment data. A search of the Department of Finance economic publications website for 2019 reveals 75 references to unemployment rate and only 12 references to the labour force participation rate. The former has been a better performing indicator compared to the latter since the onset of the post-Crises recovery. However, underperformance in labour force participation rate is in part driving rosier figures for unemployment, as large swaths of Irish working age able-bodied adults remain uncounted in unemployment figures as Chart 2 illustrates.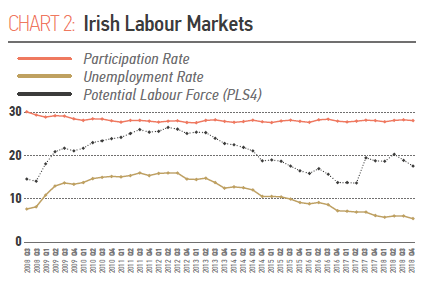 THE U.S. GROWTH: DRIVING WITH AN 'ENGINE' CHECK INDICATOR ON
The decline in the quality of information about the real economy signalled by our quoted statistics is not confined to Ireland. While well-known problems exist in all data reported by the official sources in China, even the world's largest advanced economy, the U.S. is not immune to similar problems.
1Q 2019 numbers for U.S. GDP came in roaring at the preliminary estimate time. Gross domestic product expanded at a 3.2 percent annualized rate in the January-March period, according to Commerce Department data, beating consensus forecasts of 2.3 percent, and 4Q 2018 growth of 2.2 percent. President Donald Trump said the figures were "far higher than  the high expectations", while Congressional Republicans were quick out talking up the economy. On the surface, this marked
the first rise in the rate of growth since mid-2018. The problem, however, is that the 3.2 percent print is a bit misleading, to put it mildly. Consumer spending was up 1.2 percent, but inflation actually fell to 1.3 percent. Household spending was soft, and prices, reflecting the underlying demand, were even softer. Imports, another indicator of underlying household demand, were down. Two highly volatile components of  GDP drove most of growth: inventories and net exports. Net exports added 1.03 percentage points to GDP growth in 1Q 2019, inventories contributed another 0.65 points. Altogether, the two components boosted GDP by 1.68 percentage points, accounting for more than half the official rate of economic expansion – the largest contribution by the two segments since 2Q 2013. Final sales to private domestic purchasers grew at 1.3 percent annualised pace – the slowest since 2013, big ticket «durable goods» purchases fell 5.3 percent, the worst reading since the end of 2009.  Combined with sharply higher inventories, this suggests that companies are simply piling up unwanted goods in warehouses – a sign of deep discounts to come in the future. Business investment also reflected weakening of demand, rising just 2.7 percent, with investment in structures shrinking (residential real estate fell for the fifth quarter in a row, shrinking 2.8 percent) and purchases of new equipment up marginally at 0.2 percent. Overall, investment spending was the weakest since 2016, while disposable personal income was the weakest in 6 quarters.
All in, excluding trade, inventories and government spending (the latter still lacking full accounts due to Federal Government shut-down in the earlier parts of 1Q 2019), U.S. economy grew only 1.3 percent, marking the slowest pace since 2013, and roughly half the rate of growth in 4Q 2018.
Corporate earnings reported for 1Q 2019 to-date show a 3 percent decline year on year, and forward earnings guidance provided so far indicates 2Q 2019 will likely see a further drop in earnings of some 0.5 percent, according to the surveys published by Factset. Back in January 2019, both were forecast to grow at 5 percent and 4 percent, respectively. In contrast to companies actual performance, equity markets are booming, with Nasdaq up ca 22 percent, marking its best year performance since 1991, and S&P 500 is up ca 17 percent, for its best print since 1987.
Weak GDP trends are also consistent with what is happening in the labour markets. Headline unemployment rate for the U.S. remains at historically low levels. But the latest survey of U.S. households shows employment falling 197,000 since the end of 2018. Job Openings Labor Turnover Survey (JOLTS) numbers for February 2019 are the weakest in 6 years. Other indicators show slowdown in temporary agencies workers' hiring and a massive rise (up 35.6% year on year) in announced jobs cuts, the worst reading for any first quarter since 2009.
Put differently, statistical growth of 3.2 percent is, in the end, a reflection of an anaemic and weakening economic reality.
But even the above analysis is leaving out one important question: did the U.S. economy really produce all these inventories that boosted GDP growth in 1Q 2019? It turns out that this question is far from being a trivial one. Recall that in 1Q 2019, both imports and industrial production fell. The former shrunk 3.7 percent year on year, and the later was down 0.3 percent. So where did all these goods accumulated in new inventories come from? The answer, it seems, is down to a statistical trick, called "residual seasonality" – an adjustment to aggregate data imposed by the Commerce Department in order to account for the problems with the way U.S. national accounts measure seasonal variations in output, first discovered years ago. In other words, some (unknown) part of the 0.65 percentage points of 1Q 2019 headline growth figure is a figment of statistical estimation techniques.
THE DATA-INEFFICIENT MARKETS HYPOTHESIS
All of the above examples go to the heart of the problem faced by today's investors. Longer term investment, as opposed to shorter term trading, is a craft based on forming a forward view of the markets fundamentals. Irrespective of which investment theory you adhere to, these fundamentals are derived from data, news flows and statistical reports. In the past, we – as markets participants and academics alike – thought that predicting the future primarily involved using cleaner (including officially-released) data from trusted sources and taking forecast error as being a function of the model outputs, rather than data inputs. In this setting, forecasting was a highly risky undertaking, made complex by the range of models and econometric techniques available to us. However, in more recent years, we have witnessed a growing disconnection between what is being collected, reported and assessed as data even by the most trusted sources, such as national statistical authorities, the media and the national authorities, and the underlying quality of this data when it comes to the accuracy of reflecting the true state of the economy and the markets. This disconnection has now transformed investors' fundamentals based strategic decision making into a game of blind trust, ripe with uncertainty as to the data quality, and complexity and ambiguity of signals contained in the data. The efficiency of our data-based approach to investment is declining. One-for-one with the declining quality of our data.