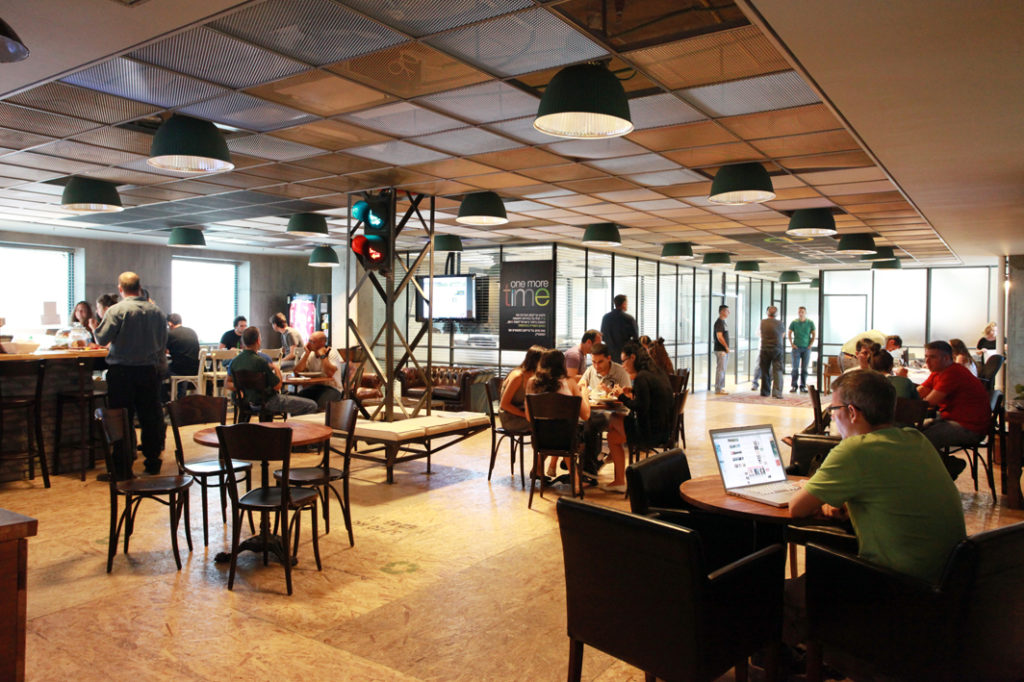 Corpoworking is a new concept that has at its core the ideal of sharing knowledge and innovative ideas in big business. It builds on the concept of co-working spaces.
Co-working has been a growing trend amongst start-ups, freelancers and small businesses over recent years. Now big business is following suit. Co-working started as an alternative to working from home or a rented office.
These spaces are popular for a couple of reasons: they are relatively inexpensive, and they encourage an exchange of ideas between energetic and innovative people from different walks of life. Corporates are attracted to this entrepreneurial culture as they view the environment as advantageous for their employees.
The larger organisations that include big names such as SAP, IBM, and AT&T have recently embarked upon the corpoworking
journey. The larger established businesses locate alongside individuals, smaller, developing enterprises and start-ups.
Research has shown that employees in shared working environments are faster and more efficient than their counterparts at Head Office. They are also more engaged and satisfied with their work.
For those starting a business, the shared environment offers support. It helps them to build up strong business ties and a sense of community. People in this environment tend to come up with challenging and disruptive ideas. Networking in co-working spaces can lead to entrepreneurs challenging each other's ideas.
This can lead to different perspectives on how to develop their products and organisations.
AGILE THINKING
This innovative environment is what the larger organisations want a part of – a place where agile thinking is encouraged. There are numerous examples of larger businesses working with start-ups and encouraging and powering their innovation.
There are thousands of corporate co-working facilities in the United States. Here the concept of corpoworking has been fast developing for some time. These environments include some unusual arrangements where different organisational teams (they sometimes even include competitors) work together on projects to resolve problems and address issues.
Everybody gains from the arrangement since the process is said to speed things up. The result is projects completed in record time.
DIFFERENT TYPES OF CO-WORKING SPACES
Last September the Harvard Business Review featured an article published by researcher Gabor Nagy and Greg Lindsay. The authors described their involvement in a coworking hub. According to them, these spaces can be split into three types according to their purpose. The writers categorised these space types as transformation, innovation and future-proofing co-working areas.
The writers describe the transformation model as a Trojan horse. The model is used to slip new working methods into what was previously an unadventurous working environment. Nagy works for Haworth, a US business which designs highly functional working environments.
He is an authority in applied research into the corporate culture. Lindsay is the urbanist in residence at a new business in Brooklyn. The business was founded by Mini to converse with and learn from designers.
According to the authors, corpoworking teams are diverse. Individuals tend to work in the team for short periods of time before returning to the company's main office. This means that the team is constantly evolving. The result is an ongoing stream of new skills and ideas.
Coworking has its origins in San Francisco. The idea began in the early 21st century when freelancers would visit each other's apartments to meet and work together. This slowly evolved into the current co-working structure. Many coworking followers are not happy that their original idea has been co-opted into what they consider to be simply flexible shared office space.
It's not just flexible office space.
Mike Hannigan, the founder of the Dublin based Coworkinn, differentiates between co-working and flexible office space. He describes the former as a community and the latter as a commodity. He believes that operating as a community is the essence of coworking.
Coworkinn was founded in 2010. Hannigan believes that he was one of the first to adopt the concept. He started the organisation when he got tired of working from home. Coworkinn has 60 members who arrive and leave at various times. Members are a mix of self-employed people, new businesses and people employed by foreign companies but based in Ireland.
Patrick Murdock, who together with Suzanne Murdock, drives The Hub Newry says that there are many benefits to co-working spaces. These spaces accommodate the needs of people who prefer to work closer to home or the area for which they are responsible. They save on rental and travel time.
The Hub Newry is a group of co-working centres present in three locations on the main road from Dublin to Belfast. It supports 20 businesses of varying sizes. Murdock says that many larger organisations have started to accommodate employees in hubs closer to their homes. It appears that other large organisations may soon follow suit and rent hub space to save employees travel time.
Murdock says that there is a new trend where organisations encourage co-working in high-quality secondary spaces all over Ireland. He is of the opinion that this trend will help to kick start the economy in smaller towns and villages around the country.