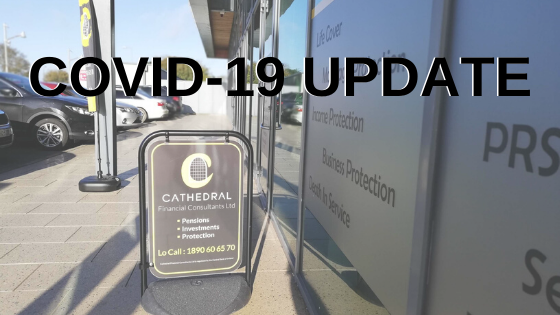 Given these extraordinary times, while we all adapt to manage the Coronavirus (COVID-19) and adhere to the HSE and Government advice, we want to reassure you that Cathedral Financial Consultants Ltd continue to do what we can to support our clients. The health and safety of our colleagues and customers is our top priority.
In light of the ongoing Coronavirus public health emergency, we would like to update you on some changes to our service that came into effect from Thursday 26th March until further notice.
We are following the Government's advice and where possible, Cathedral Financial Consultants Ltd staff will work from home for the coming weeks. Our people can work remotely, and our systems are enabled to facilitate this. We will strive to continue to deliver the very best possible service to our customers however delays can be expected due to operational changes for both us and our all product providers.
Our phone lines remain open (1890 60 65 70) and our website is accessible at www.cfc.ie, however, we would encourage all clients to contact us by email where possible. There may also be delays to posting documentation and we will email these to you where possible.
Queries should be emailed to info@cfc.ie where we will respond back by email or contact you by phone where necessary. Should you wish to speak directly to one of our Financial Advisors, please see below their contact details:
Financial Advisor, Contact Number, Contact Email Address
Noel Larney 087-1436800 nlarney@cfc.ie
John Kerr 087-6966709 jkerr@cfc.ie
Larry Murphy 086-2600266 lmurphy@cfc.ie
Cormac Malone 087-3400980 cmalone@cfc.ie
Gary Brady 087-3837439 gbrady@cfc.ie
We appreciate that this is a very challenging and anxious time and would like to extend our very best wishes for the safety and well-being of all our clients, and your families and loved ones.