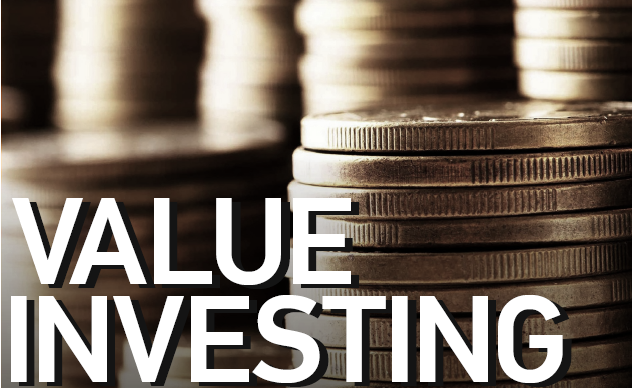 Value investing has been a mainstream cornerstone of investment management industry and retail investors' Holy Grail for designing strategic allocations of capital since the mid-1960s through the early 2000s. Launched on foot of the work by Benjamin Graham, the father of modern factor analysis, who in the 1930s formulated the basic principles of value investing. Graham was a mentor of Warren Buffet, and Buffet famously took the mantle of value investing king, leading the world of factor based asset management since then. In the 1990s, another disciple of value investing, Joel Greenblatt and his hedge fund Gotham Capital have set all-time records for the investment industry in terms of investment returns. Gotham Capital launched with USD7 million investment back in 1985. Between 1985 and 1994 (the year Gotham was closed to new investors), the fund managed a gross annualized return of 50 percent and a net of fees return of 30 percent. In other words, the original investment of USD 1 million in Gotham Capital at the start of its inception would have earned its partners just over USD38.4 million within the span of nine years which included one major stock market crash and a recession.
This economic outlook is provided by Dr Constantin Gurdgiev who is the Adjunct Assistant Professor of Finance with Trinity College, Dublin and serves as a co-founder and a Director of the Irish Mortgage Holders Organisation Ltd and a co-founder of iCare Housing Solutions, two non-profit organisations working with the issues of financial empowerment.
Value investing is broadly defined as an investment strategy that involves identifying shares that are trading for less than their fundamentals-justified intrinsic value due to financial markets investors over-reacting to temporary bad or good news about the company. Thus, value investors use 'screens' or financial and operating performance factors to locate stocks which have recent price movements that do not correspond to a company's longterm fundamentals. They buy when the market quoted price is set too low and sell when the market price is set too high.
VALUE WOES
Since publication of Benjamin Graham's famous book The Intelligent Investor in 1949, value investing became the dominant strategy for mom-and-pop investors. However, in more recent years, it has been rivalled by two alternative investment strategies, increasingly favoured by the Millennials and the GenX-ers: passive indexing and growth stocks selection. The former involves buy-and-hold investments in market indices, targeting investor returns that track a broader market performance. The latter focuses on companies that are expected to grow at an aboveaverage rate compared to their industry or the market. Growth investors, like value investors, use 'screens' to identify companies with stronger prospects of gains relative to their historical and future earnings growth, profit margins, returns on equity, and share price performance.
This trend in changing investor sentiment to key investment philosophies is reflected in the evolution of historical returns. Without adjustment for risk, growth investing always dominated value investing, even back in the days of value investing peak performance. However, risk-adjusted total returns to value investing used to out-perform those of growth investing until the mid-2000s. Since then, however, things changed dramatically. Following the Global Financial Crisis, value investing has underperformed both thee broader passive index-targeting approach and the growth-focused investing. As shown in the Chart 1 below, since 2010, value investing clocked up cumulative underperformance of 25.6 percent compared to the S&P500 index and 41.4 percent compared to the S&P500 Growth index. Worse, smaller cap stocks value investing has underperformed passive S&P500 index by a massive 30.6 percent and is under-shot large cap growth investing by a whooping 55.5 percent.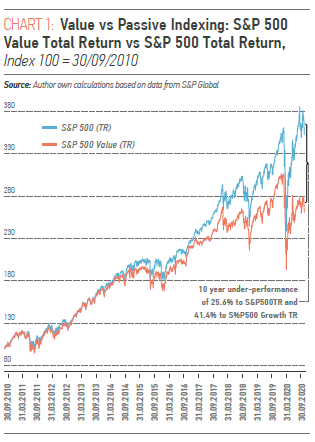 Worse, value investing has seen even faster deterioration in its performance relative to the two other popular strategies since the start of the COVID19 pandemic.
KEY DRIVERS FOR VALUE STRATEGIES UNDERPERFORMANCE
Given the sheer size of the existent portfolios allocated to the value investing in the markets, the question is why?
Myself and my students in Investments course in the Northeastern University (Boston, MA) have recently taken up this question in our discussions and class project work.
Here is the summary list of our findings that is worth sharing. In basic terms, there are three core reasons for value investing poor relative performance in absolute terms, plus a fourth reason for its weakness in risk-adjusted terms:
Monetary policy impact on financial markets;
Technological stocks valuations;
Improved informational efficiency of the mature
equity markets; and
Reduced risk premium in the broader markets.
Here is how these arguments play out in data. Monetary Policy: Interest Rates and Money Supply A major explanation for value investment decline as a source of asset management alpha (excess return on investment over and above the benchmark index) is the low interest environment that has been in place globally since the market crash of 2008. In their August 2020 article for the CFA Institute, Derek Horstmeyer, Morgan Rink and Maximilian Simkins make a cogent argument that in the current ultra-low interest rates environment, investors should ignore both traditional value and growth screens in assessing individual stocks for investment (https://blogs.cfainstitute.org/investor/2020/08/31/should-fundamental-investorsgive-
up-on-value-stocks/). Instead, the authors urge investors to use high terminal values or high growth rate of earnings as useful signals for identifying target companies for investment. In contrast, the authors argue that in the higher interest rates environment, value and growth investing should be oriented toward higher dividend yield.
The study showed that the lower the interest rates, the greater the returns to growth strategies, with the authors' sample portfolio returns to growth strategy selection ranging from 0.14 percent with the Federal Funds rate of 0 percent down to 0.045 percent with the Federal Funds rate of 0.2 percent. Over the same range of interest rates scenarios, returns to value screening ranged from 0.087 percent to 0.07 percent. Put differently, in the ultra-low interest rates environment, growth stocks outperform value stocks, but this outperformance is highly sensitive to even moderate increases in the policy interest rates. Of course, money supply policies are directly linked to both the benchmark rates (the Federal Funds rate referenced above) and the cost of funding at the investor level (retail interest rates). As central banks pump more money into institutional investment markets as opposed to retail investment markets, retail interest rates fall faster and deeper for the Wall Street than the Main Street (e.g. see Federal Reserve's MZM money supply to institutional investors vs M2 money supply to households – Chart 2). The result of the monetary policy-induced shift in investment strategies is that retail investors are incentivised to chase institutional investors' strategies that are increasingly geared toward growth factors, as opposed to value factors.
Improved informational efficiency
Meanwhile, greater data intensity of investment markets  is shrinking value-focused screens efficiency in identifying market mispricing. June 2020 article in the Chicago Booth Review, titled The value-stock premium is shrinking (https://review.chicagobooth.edu/finance/2020/article/value-stock-premium-shrinking) makes this point by comparing value returns relative togrowth returns across small, medium and large cap firms. The data shows that "the big-stock value premium declined from 4.3 percent per year (1963–1991) to 0.6 percent per year (1991–2019) while the small-stock value premium declinedfrom 7 percent per year to 4 percent per year." Put differently, value investing works somewhat better for smaller cap stocks because of lower information flows about these stocks. Unfortunately, these stocks are less accessible to and of lesser interest to retail investors.
Technological stocks valuations
In the past, technology stocks – stocks that tend to offer more growth than value opportunities by their definition, because they contains larger share of younger and rapidly growing companies – were relatively concentrated in one or two sectors. Since the mid-2000s, this is no longer true. Companies like Amazon, Google, Carvana and Uber etc bridge a range of sectors, such as pure technology (Amazon and Google) to transportation (Uber) to retail (Amazon, Google and Carvana). Value investing strategies are basically looking for companies whose stock prices are bound to revert to their long-term trend, once company fundamentals are correctly re-priced by the markets. The problem is that with current technological disruption impacting a wide range of sectors, the old trends themselves are being
altered by the new competition within even established sectors. For example, recent research note from McKinsey & Company argues that digital technologies disruption is creating significant new value in thee old-fashioned sectors like mining and fossil-fuel power generation, chemicals and power distribution, as well as consumer staples (https://www.mckinsey.com/business-functions/strategy-and-corporate-finance/ourinsights/
why-digital-is-no-different-when-it-comes-to-valuation).
Reduced risk premium in the broader markets
Last, but not least, the combination of improved information flows and lower interest rates has dramatically reduced risk loadings that investors attach to individual stocks. The long-run bull markets in stocks, and the lack of stock markets sensitivity to the external economic conditions both desensitised retail investors. As the result, investors increasingly view stock markets as 'fair-priced' no matter what the actual value indicators for the broader markets and for individual companies say. Even where marketswide surveys reveal investors' concerns with potential price bubbles in equities, investors' actual revealed behaviour (their choices of investment strategies) continue to indicate lack of concern with risk and uncertainty being present in the markets. Research by Pablo Fernandez of IESE Business School clearly shows that even at the peak of the first wave of COVID19 pandemic in 1Q 2020, institutional investors and analysts' barely revised their estimates of the market-wide risk premium for the U.S. and global financial markets, compared to pre-pandemic 2017-2019 (https://papers.ssrn.com/sol3/papers.cfm?abstract_id=3560869). Given that the larger investors trade on institutional investors' and analysts' expectations, these findings suggest that the
broader retail markets have become desensitised to longer term risks, achieving a plateau of complacency that tends to shift their allocations toward more aggressive strategies, such as growth-targeting investments.
THE LESSONS TO BE LEARNED
Value investing has lost a lot of its shine in recent years, but it hardly lost much of its intuitive appeal. The idea of identifying stocks that hold a promise of improved longer term valuations and buying them whiles they are cheap is an appealing one. The problem is that the modern markets environments – from technological disruption to monetary policies activism to changes in the value risk premia – favour an updated approach to value-targeting 'screening'. In most basic terms, this means two things for value-targeting investors:
1. Factors or 'screens' used in identifying value investment targets need more frequent testing and re-evaluation against the historical trends; and
2. Factors or 'screens' used in selection process need to be targeted not only to specific sectors, but to specific firms.
As risks in the investment markets begin to rebalance following the U.S. Presidential elections and as COVID19 pandemic starts to abate at some point in time, investors will start pricing their current strategies to factor in the expected return to the pre-2020 'normal' monetary and economic growth environments. While it is unlikely that growth and indexing strategies will give way to the full return of value investing in the medium term, but fundamentals-based investing analysis can still hold a promise of adding some value to investors' portfolios in the longer run.