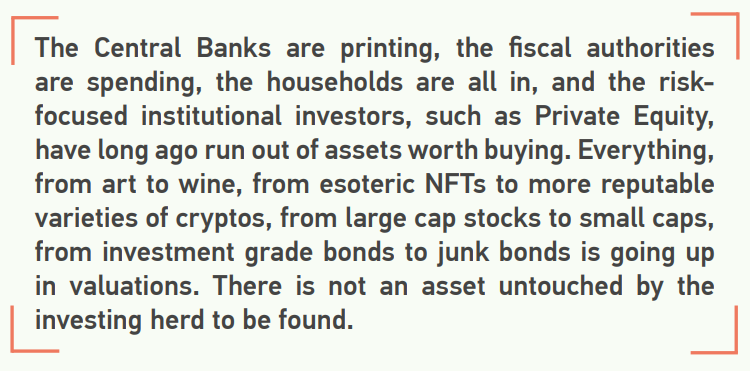 Market Madness
Consider the following facts. As of the end of November, through the first week of December:
• Nasdaq 100 / Dow Jones ratio – a measure of the 'new economy'/tech stocks valuations ratio to the 'old economy' stocks values has risen above 0.471 – a number that is above the previous record reading of 0.467 last attained at the peak of the Dot.Com bubble in 2000. At the end of 2019, before the pandemic struck, the ratio was at 0.3.
• Value stocks have fallen against growth stocks to the levels last seen at the end of 2000: the 12 months forward PE ratio for Russell 1000 Value Index is now just 52 percent of the 12 months forward PE ratio for Russell 1000 Growth and a similar trend is now evident in the value vs growth stocks performance within S&P500. A reading of less than 70 percent is viewed as signaling a market that is severely overbought risk.
• S&P500 Information Technology Sector Total Return is up 28.7 percent year to date, the index price return is up 27.61%, implying that just 1/20th of the total return came from dividends, while the rest is down to speculative buying. In the same period, S&P 500 Value total return was up 19.7 percent, with dividends contributing ca 1/12th of the total return. Put differently, tech stock valuations not only outperformed value stocks, but they did so on the back of lower contribution of dividends to the total return. Of course, dividends represent a major metric for assessing companies intrinsic value. And, of course, no one cares today for fundamentals. (Chart 1)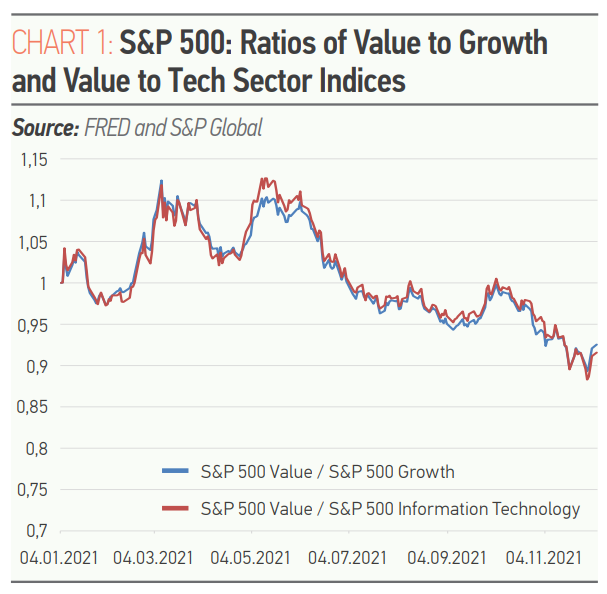 • At the end of October, based on the data from Topdown Charts, ca 35 percent of all stocks traded on the US markets had a Price/Sales ratio in excess of 10x. At the peak of Dot.Com bubble that number set previous historical record at 'only' 23 percent.
• Some analysts are quick to point out that today's profit margins are generally higher than those recorded back in 1999-2001, allowing for higher Price/Sales ratios. Alas, this hardly matters: we are witnessing investors propping up a historically high number of zombie firms (companies with annual EBIT below their interest bills). Zombie companies' stocks now have total market capitalization in excess of $5.7 trillion. Back at the Dot.Com peak that number was less than $2 trillion, so increases in zombie firms valuations have outpaced overall market cap to GDP ratios increases.
• The latter, stock markets capitalization ratio to GDP, is now in excess of 205 percent – the highest it has ever been and above the Credit Crisis bubble peak of 140 percent and the Dot.Com bubble peak of 151 percent. Across 17 largest developed economies, GDP-weighted average stock market cap to GDP ratio is currently at its historic high of 165 percent. In the prior two crises, the same ratios for the advanced economies' markets were 115 percent and 125 percent, respectively.
• Looking back at the PE10 ratios (ratios of current stock prices to 10-year average of corporate earnings), US markets peaked at 52x at the top of the Dot.Com bubble and at a moderate 29x in the run up to the Global Financial Crisis. Today's PE10 ratio for the US is closer to 44x – somewhat below Dot.Com bubble top, but vastly above any other reading from 1985 through today, excluding 1998-2001 period. There is nothing comparable to this investor exuberance in the rest of the world: Emerging Markets are currently trading at PE10 multiple of around 15x and Developed Markets ex-US are close to 20x.
• Meanwhile, Liv-Ex Fine Wine Investables Index is now back above its previous historical highs achieved back in 2011, having risen at the rates only slightly below those for S&P500 since the start of the pandemic.
• Meanwhile, net cash positions in retail and institutional investors' margin accounts are the lowest on record. In October 2021, cumulative cash net of margin debt drawdowns for the US investors fell to -$709.7 billion – its lowest level in history (Chart 2).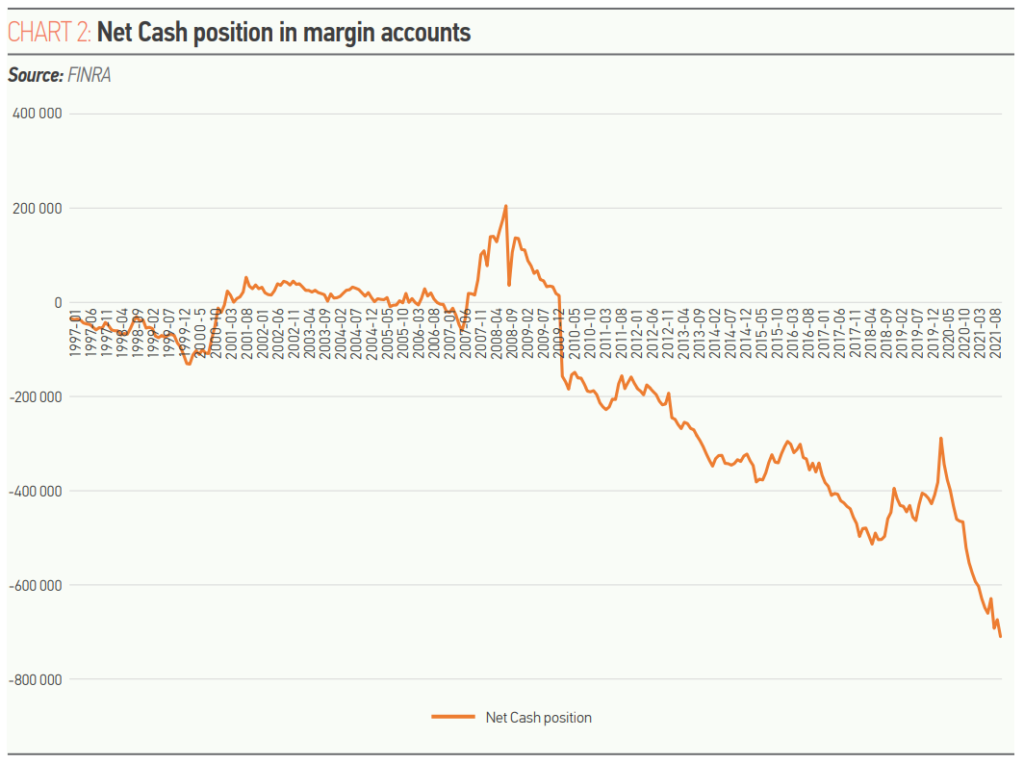 • Private Equity firms – former payday champions of the Wall Street world – are struggling to find any value in this environment. PE deals valuations and leverage risks are through the roof. Per recent analysis by White & Case, "US buyout multiples averaging 11.4x EBITDA in 2020 and more than two-thirds of US deals pricing above 11x EBITDA" (https://www.whitecase.com/publications/insight/usma 2021/private-equity-deal) . As the result, number of PE buyouts peaked in 1Q 2021 and have declined since, though the value of these deals continued to set new historical records. Perhaps even more telling, quarterly value of exits from PE holdings has exceeded $100 billion in every quarter starting with Q3 2020. There has been not a single quarter on record prior to this pandemic when PE exits were in excess of $100 billion.
Debt And More Debt
The last two points are important ones. Whatever one makes of the earnings and profit margins dynamics in recent years, the extent to which the US markets have leveraged up since the start of the pandemic is a major concern of its own. FINRA's latest data through October 2021 shows margin accounts drawdowns of $935.86 billion. But this does not include margin debt carried by the US hedge funds that was raised abroad. Based on the Fed statistics for 1Q 2021, adding this debt, the total margin debt that is underwriting US stock markets valuations to date was closer to $1.04 trillion at the end of 3Q 2021 and has potentially risen to as much $1.18 trillion by the end of November. If confirmed in a data release due in 1Q 2022, this would imply that margin debt accounts for ca 2.3 percent of the total market capitalization of the US stock markets – a number well above 1.8 percent marker reached at the peak of Dot. Com bubble, although still below 2.7 percent all time high reached in 2008 (Chart 3).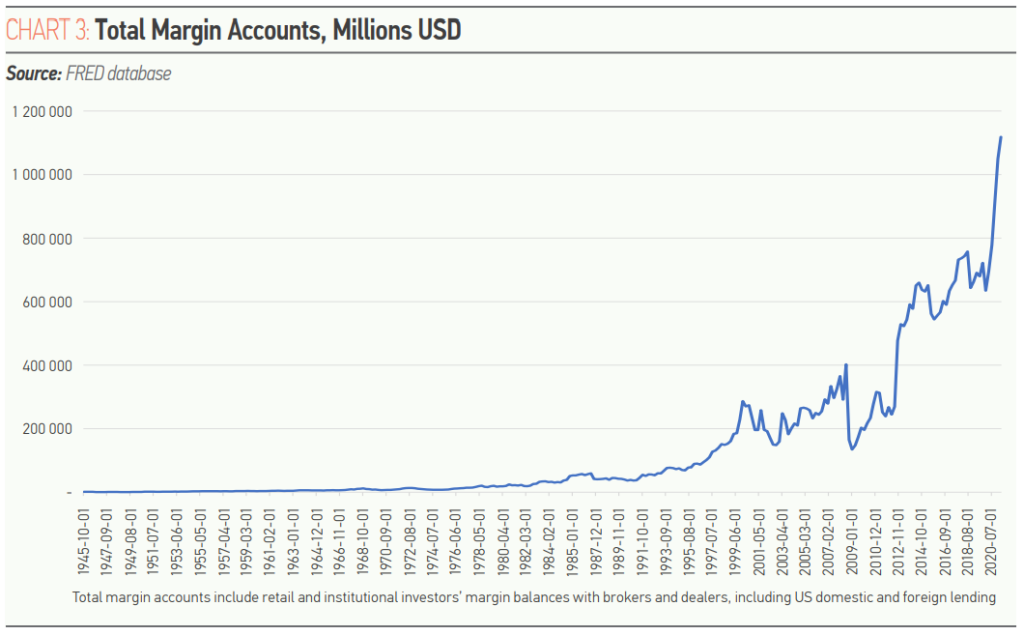 The Herd Takes Over
Investors' herd chasing risk-loaded returns has gone full contagion. Last month, Calpers, one of the largest pensions funds in the world with assets under management in excess of $495 billion announced that it will borrow 5 percent of the fund's money to leverage up into high risk assets. Calpers is more than a canary in the mine. The fund manages pensions for a range of public sector employers in California, including highly sensitive and powerful unions representing police and law enforcement, fire crews and teachers. It is also the largest public pensions manager in the US. In recent decades, Calpers achieved returns have trailed far behind the returns required to achieve solvency on long term pensions liabilities promised to many of these critical employees. Which means that Calpers has started forcing smaller pension pools in rural parts of California to impose cuts on pensions payouts. In the political powder keg that is modern America, such cuts are equivalent to playing with fire in a munitions warehouse. In the political environment of looming 2022 mid-term elections and 2024 presidential and congressional contest, this playing with fire looks more like playing with napalm.
Switching to Higher Risk Gearing Strategies
Here's what is interesting about Calpers' decision. A pension fund is a conservative undertaking. The last thing Calpers want is to endanger – through leverage risk, market risk, liquidity risk or any other major source of value uncertainty – its long-term solvency. Which means it should be very careful with investments it makes, let alone with taking on debt to engage in leveraged trades that target higher risk strategies. But Calpers is not holding back. The fund already holds vast exposures to institutional investors (e.g. hedge funds and investment funds) which are leveraged up to historically high levels themselves. And now Calpers is borrowing directly to leverage even more. Doing this in a market on an upward trend with a lot of room to run based on the stocks (and bonds) intrinsic valuations is a risky proposition for an asset manager with growing longer-term liabilities, such as a pension fund. But getting deeper and deeper into leverage in the markets that are at or above prior historical highs in terms of valuations is pretty much a game of desperation.
Calpers is following in the footsteps of the Private Equity. As noted above, deal leverage has skyrocketed in the case of PE buyouts and is sitting at a record historical high. As stated earlier, more than two-thirds of US deals are currently being priced above 11x EBITDA. During the pre-GFC markets bubble, less than one third of all PE deals were done at such valuations. To afford these price exposures, PE firms are falling into debt. Debt financing as a share of buyouts rose to 7x EBITDA in almost six deals out of ten in 2020. Which is triple the level of debt leveraging involved in PE deals five years ago.
Just as PE industry is loading up on risk and debt, pensions funds are loading up on PE industry. At the same time as it announced that it will be borrowing to invest, Calpers also said that it will increase its portfolio exposure to PE from 8 percent of AUM to 13 percent (https://www. institutionalinvestor.com/article/b1vqmjx5wnv2vq/CalPERS-is-Turning-to-Private-Equity-and-Leverageto-Boost-Returns-and-Reduce-Risk-Will-It-Work).
Worse, debt exposures in PE sector have been shifting not only in terms of quantity, but also quality. A recent survey of PE firms by a law practice Dechert found that 45 percent of PE firms have increased their use of private credit financing over the last three years through mid 2021. This represents a 10 percentage point increase on 2020s survey (https://www.institutionalinvestor.com/article/b1vdhdbryr7dkp/Private-Equity-Funds-Fuel-Growthin-Private-Credit). Which potentially makes true debt exposures within the asset management and investment services sector less transparent and harder to pin down for pensions savers and institutional investors.
The rising exposure to leverage risks in today's financial markets is even more apparent when one considers the fact that we are moving toward a potential reversal in the monetary policies that sustained the accumulation of this leverage and underpins current markets' valuations. In recent weeks, both the FOMC and the Fed influencers, such as Laurence Summers, have accelerated the rhetoric about the need for accelerated tapering of asset purchases by the Fed, as well as the desirability of more aggressive interest rates hikes in 2022. Last week, Summers, who holds a significant influence in Washington, called on the Fed to pre-announce its intentions to carry out four interest rates hikes in 2022. Recent Fed's dot-plots, mapping FOMC members' outlook for interest rates in years ahead, has been shifting to reflect the growing pressure within the central bank to raise cost of credit faster and earlier.
Should the Fed opt for a surprise and put its monetary policy onto more hawkish footing in early 2022, the move can easily cause a major markets correction, blowing leverage risks up and forcing big losses into leveraged portfolios. But, for now, the party is rolling on.