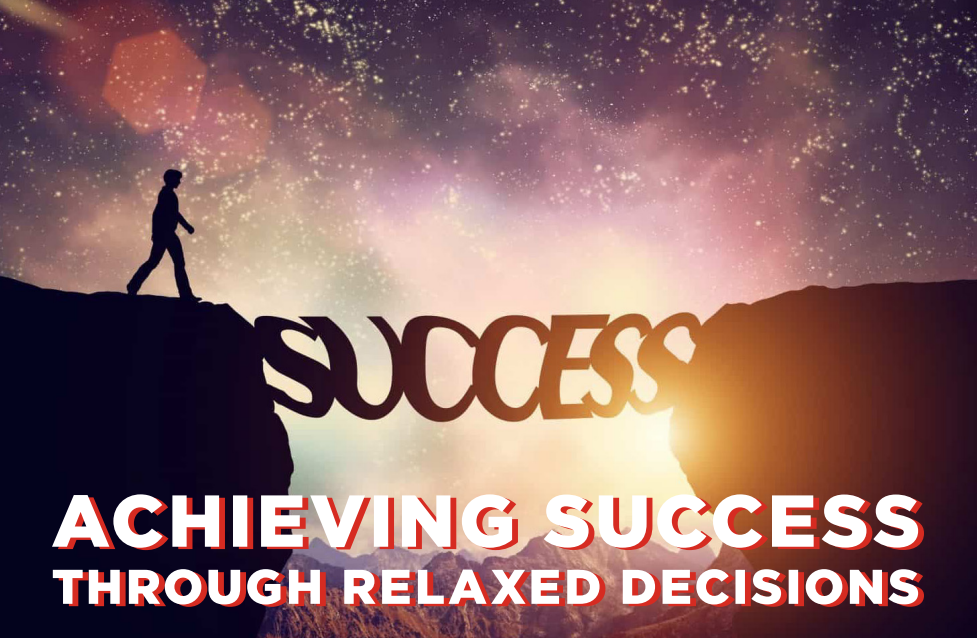 Everyone faces problems sometimes. You may be in an unhappy marriage, hate your job, or have financial problems. Whatever your current difficulties, at some point you'll ask "What next?"
The time comes in everyone's life when we have to decide what to do. Do you and your partner go for counselling or is it time to call it quits? Do you resign from your job or stay in your unhappy position until you have somewhere better to go? How do you resolve your financial concerns?
The decisions you make may have a lasting effect so it's vital that you make the best possible choices.
MAKE RELAXED DECISIONS
Whatever you do, before you make any life-changing decisions, first relax. When you're relaxed you can see things more clearly? In a relaxed state you can see the storm coming your way so you won't take fright. You'll make calm decisions and find solutions.
Many people fail to appreciate the importance of making decisions in a relaxed frame of mind.
Only a calm business leader can take their organization smoothly to the next level. No business can succeed over the long term under the leadership of an emotional person who makes decisions based on sentiment.
Unless we learn to relax before we make decisions, we complicate matters. When there's stress and tension even simple decisions become more difficult.
When you're wound up you are blind to opportunities and can't see how courage could bring you good fortune.
You are more likely to take risks when you're relaxed because you know that even if you fail, you will have the strength to pick yourself up and start again. You'll find the best solutions safe in the knowledge that no matter what the outcome you can handle it.
When you're relaxed you will make decisions that you'll be proud of and that will help you to a successful future.
RELAX YOUR MUSCLES
Your body and mind are connected. Relax your muscles and you feel relaxed. Your brain will follow the actions of your body.
Likewise, when your muscles are tense, your brain starts to create negative feelings such as jealousy, fear and anger.
And it works both ways, when you have negative thoughts, your muscles will become tense and tight.
Your brain will only relax when you loosen those muscles, allowing the brain to imitate the body and loosen up. When your body is relaxed your mind will calm and you will automatically make better decisions.
WHEN YOU'RE RELAXED ALL PROBLEMS ARE SOLVABLE
Perhaps your world is full of opportunities, but you're blind to them. It is very possible that you aren't seeing life's opportunities because you're tense and uptight.
When you're full of stress and tension you can't see the opportunities for what they are. You're too busy dealing with everyday worries to find the way to your dreams and to quickly solve problems.
People who are more relaxed and attentive will quickly find solutions to complicated problems.
See your problems as opportunities and a way to a new life and all your problems become solvable.
IN SUMMARY
Your current circumstances are the result of all the choices you have made in the past. Some outcomes may have been successful. Perhaps others weren't.
Looking back, you will likely see your best decisions were made when you were relaxed and able to see opportunities. It is impossible to make good decisions from an emotional standpoint.
The calmer you are the better and more creative your decision making and the better the outcomes.